A busy weekend draws to a close!
Published 22:58 on 7 May 2023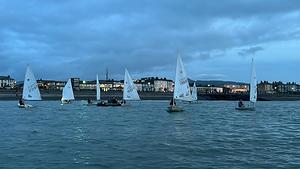 It was a busy weekend in the club this weekend as the 2023 season really got going.

On Friday evening, we had a briefing session for members rostered for RO and ARO duty.
Then, in the dark small hours of Saturday morning, 18 club members in a total of 11 boats launched to participate in the Club's Darkness into Light fundraiser for Pieta House. The total raised is just short of EUR2000.
Later on Saturday morning, the cruiser class had a coastal race to Dun Laoghaire followed by dinner at the RStGYC and a return race to Bray on Sunday.

On Saturday, we had a Skillbuild introduction to Flying Fifteens which was greatly enjoyed by all participants and this included a few round trips out to the Bray Outfall mark. The SkillBuilders showed remarkable ability in the Flying Fifteens. It has been heard that Irish Lights have deemed this mark to be one of the most vandalised marks around our coast and are puzzled as to how this is happening. Sadly the Skillbuilders couldnt be persuaded to leave their signatures there and add to this mystery,
Martin also ran our first National Powerboat course for this year with three participants, hopefully the first of many.
Sunday also saw our inaugural Dust Off Your Boat day for our junior boat owners which was run alongside our first Pico club for 2023. Unfortunately weather conditions prevented them from sailing, but on the plus side their boats should all be ready for the first 2023 Race Coaching session next Sunday.
Then arguably the most important event of the weekend, was the culmination of our training course for our eight newly qualified homegrown instructors - Chloe, Christian, David, Elodie, Emily K, Emily M, Emma, and Lucy. Congratulations to all of you!
Last updated 15:17 on 28 November 2023